Thursday 18 March 2010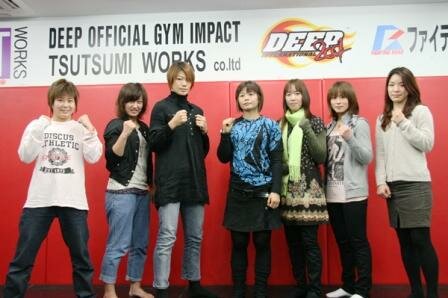 Tomorrow Jewels will hold their 7th event, and again it is sold out. If you want to go, they will have some standing tickets on sale.
The main event will see StrikeForce veteran Hitomi Akano take on HIROKO in a rematch. Akano is the only loss on Hiroko's record, it will be interesting to see if she can get her revenge.
Lots of good promising fighters on the card, and it should be a good event.
Main Event:
9. -65kg: Hitomi Akano (64.7kg) 15-6-1 vs. 7-1-1 (64.2kg) Hiroko Yamanaka
8. -52kg: Mika Nagano (52.0kg) 5-2-0 vs. 3-1-0 (51.6kg) Mai Ichii
7. -58kg: Miki Morifuji (58.0kg) 8-6-0 vs. 6-1-0 (58.0kg) Shizuka Sugiyama
ShootBoxing Rule:
6. -54kg: Ai Takahashi (53.9kg) vs. (not available) ASAKO
Exhibition Fight:
5. Rena vs. Seo Hee Ham
4. -52kg: Hiroko Kitamura (52.0kg) 3-0-0 vs. 0-2-0 (51.9kg) Celine Haga
3. -48kg: Kikuyo Ishikawa (48.0kg) 2-1-0 vs. 0-1-0 (47.8kg) Miyoko Kusaka
2. -52kg: Yuko Kagoshima (51.6kg) 1-2-0 vs. (52.0kg) Sakura Nomura
Opening Fight Grappling Rule:
1. -48kg: Shiho Yaginuma vs. Satoko Kameda
Discuss in the
FORUM