Monday, 30 November 2009


Jewels have added another fight to their 6th event. Mari Kaneko will return after almost 4.5 years. In her day she fought some big fighters in her day, including Yuka Tsuji, Satoko Shinashi and Hisae Watanabe.




Her opponent will be AACC's Rina Tomita.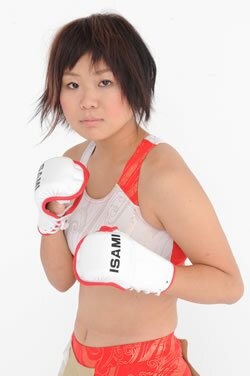 It has also been announced that this event is sold out, there will be a few standing places available though. All other tickets are sold out.

Announced:
-53.5kg: Mari Kaneko 8-8-1 vs. 2-2-0 Rina Tomita

Previously Announced:
Main-Event: -52.5kg: Saori Ishioka 7-4-0 vs. 7-2-0 Sally Krumdiack

-60kg: Shizuka Sugiyama 5-1-0 vs. Ko Ozeki
-53kg: Hiroko Kitamura 1-0-0 vs. Ayuka Hamazaki
-48kg: Yumiko Inoue vs. 0-4-0 Misaki "Patora" Ozawa
-48kg: Yoko Yamada 5-1-0 vs. Miyoko Kusaka

ShootBoxing Rule: -52kg: Juri- vs. Asaka

Rough Stone GP 2009 Finals:
-60kg: Alexandra Sanchez 2-0-0 vs. 1-1-0 Tomoko Morii
-54kg: Mika Nagano 4-2-0 vs. 1-0-0 Yuko Kagoshima
-48kg: Asami Kodera 4-3-0 vs. 2-0-0 Kikuyo Ishikawa

Discuss in the FORUM

Read more...