Thursday, 19 February 2009
Shinya Aoki has become one of the biggest names in MMA over the last couple of years. Mainly because of his strong ground game, but people have noticed his pants as well.

There are always arguments whether they give him an unfair advantage, I wont go into that here. I will however give you a gallery of his colorful pants.

It is easy to forget that there was a time when Aoki was not wearing the tights he is now so famous for.





In his DEEP days, he was actually wearing a normal fight shorts. This is from his fight with Jutaro Nakao in the DEEP welterweight tournament in 2004.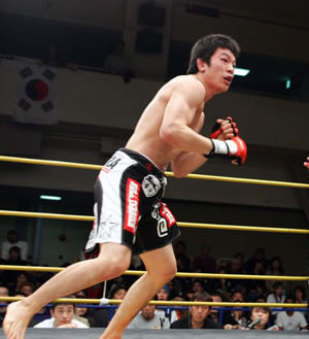 In his fight with Yuki Kondo, Kondo was actually the one wearing the tights....





He moved to Shooto after the loss to Nakao, and it is really there his career started to take off. Still no sign of the tights that was going to change his life. This is from his fight with Kuniyoshi Hironaka.





His Pride debut came against Jason Black. This was in Bushido 12, and I think this was the debut of the long tights.





He returned to Shooto against George Sotiropoulos, a sign of things to come. Though not as colorful as they will get, this might be my favorite.





He went back to the yellow tights against Clay French, even though it was with red stitching this time.





Aoki really came out of the closet in his first fight with Joachim Hansen. It proved a turning point in many ways. Aoki turned up in rainbow pants and won by gogopalata.





After that he returned for a last fight in Shooto in his yellow tights, against Akira Kikuchi.





His fight with Brian Lo-A-Njoe would be the last under the Pride banner. Aoki turned up in tights that were yellow on the front and blue on the back. Looking very Swedish...





Like a lot of Pride fighters, Aoki was out of action for most of 2007. He returned on NYE for Yarrenoka against Bu Kyung Jung in golden pants.





Shinya Aoki faced JZ Calvan in a controversial fight at DREAM 1.





The fighters met again at DREAM 2, but Aoki had time to design a new pair of tights.





For his DREAM semi-final against Caol Uno I thought his pants looked a bit inspired by the stars and stripes.





The final against Joachim Hansen (also DREAM 5), his pants were clearly a tribute to the Osaka fans and the Hanshin Tigers.





Aoki didn't wait long to get back in the ring, at DREAM 6 he was back against Todd More. Again sporting some new tights, very orange this time.





Aoki's last fight was with Eddie Alvarez at Dynamite!




I am sure there is more to come from Aoki, and he is not afraid to make a statement with his pants.